Download LODIBET APK in the Philippines Legally
Download LODIBET APK has long been the choice of the largest number of Filipinos, as we are one of the few licensed online casinos. Our APK is convenient, simple, and fast loading, these features allowed mobile players to safely play online without any barriers using their mobile devices.
LODIBET is a company founded locally in the Philippines and has been deeply involved in the Southeast Asia casino industry for many years. We are sincere in listening to the voice of players and continue to provide the best quality online casino service. After a poll we ran last year, we found that mobile device optimization can no longer satisfy players, so we decided to make an application available for both Android and iOS users this year to take care of the need of mobile gamers!
Download LODIBET APK & Install in 4 Steps
The download method of our application is very intuitive, you can find the assessment immediately as you enter the LODIBET homepage. You don't have to do anything, just scan the QR Code and the file will start downloading. Once you've downloaded it, follow the instructions below to install!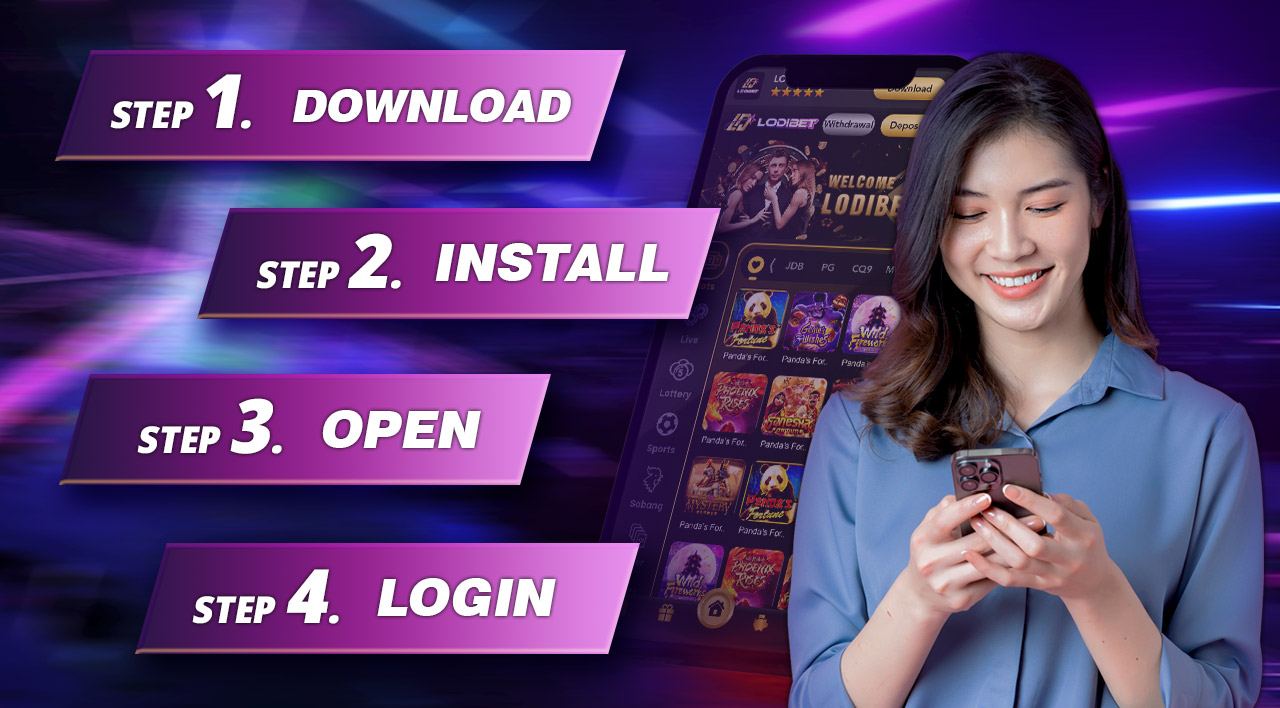 Step 1. Download the APK
First, go to the home page of LODIBET Casino and you will see five golden icons on the right hand side. When you click on the icon of our related mobile system, the QR Code will be displayed. You can scan it directly, or you can save the QR Code to an album and scan it using other app for download.
Step 2. Install
After scanning the QR Code, the file will start downloaded automatically. Once downloaded, it will be saved where you specified. You can either go to the directory to install it or check the download list to start installing it.
Step 3. Start the APK
After the installation is complete, you can see our application on your device. After starting it, our APK will ask for the right to send notifications and permission to collect data. We suggest you turn on the former to receive the latest notification at any time; the latter will depend on your preference. The main purpose of the data collection is to allow ads to be more personalized, based on your immediate or long-term needs.
Step 4. Login to the account
After successfully entering the application interface, enter the account password to log in. You can also choose to "remember account" option to stay logged in, and then you don't have to enter your account password every time you restart it.
At this point, the download and installation are both complete, and you can now use our application to play the game. Isn't it simple?
Why LODIBET APK is Legal in the Philippines
The reason why LODIBET APK can be downloaded legally is that we are a legally registered company in the Philippines. And we went under the certification of the government, to provide the best service. We hold both the POGCOR license and the MGA license, it made us well known throughout Southeast Asia.
Philippine Amusement and Gaming Corporation, shorten as PAGCOR, is an official organization directly supervised by the Office of the President for the Amusement and Amusement of all Gaming entities. MGA is the Malta Gaming Authority, the Gaming Control Board of Malta, which regulates all physical and online casinos in the country.
Getting them certified is a tough task, with many well- known casinos struggling to get licenses. However, we are different. With dual licenses, all our services are legal — from registration, gaming, payment, and agency system to download.
The biggest principle of LODIBET is to let our members play safely and win money legally.
LODIBET APK: More Convenient, Easier, Faster
Built on a legal foundation, our application also performs well. Mobile players can imagine a mobile casino in their hands, which is convenient, simple, and fast, with a mobile deposit function.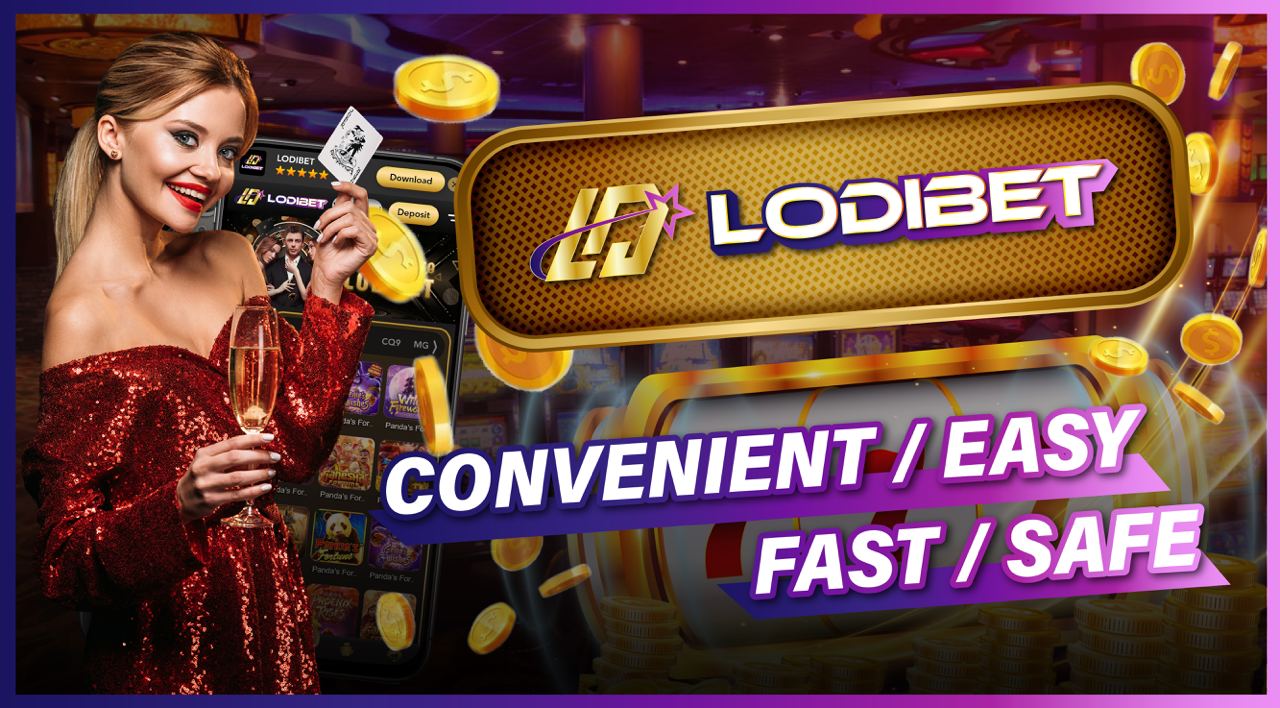 Multifunctional, more convenient to deposit
We've put all the positive features from our website into the application, and it does all the services that players can access in the browser, or even do better. Players no longer have to open web pages one after the other and repeatedly refresh to see if a deposit or bonus has been successfully entered – in the APK, just go to the menu, and those annoying processes will be completed in a flash, and your account status is also updated in real-time.
More intuitive menu, easier to operate
Players can access most of the functions directly from the home page: account login, game list, account overview, balance status, deposit/withdrawal, current promotions, customer service, app downloads, and agent back system, all to access with just one click.
Device optimization, faster user experience
LODIBET APK is perfectly compatible with Android/iOS and the loading speed does not differ by operating system or device. Under a normal Internet connection, the average loading time is less than 0.01 milliseconds, which shorter than the speed of human eye recognition, this allows users to access any function smoothly.
On top of that, LODI APK uses the highest level of AES 256-bit encryption to protect your data from leaks. To enjoy the exciting game, start with the download.
Download LODIBET Casino and Win Safe Online
What level of security is an AES 256-bit encryption? Well, even the most innovative computer system would take 100 billion years to hack your account. Security is what LODIBET wants to brings to players after convenience, simplicity, and fast speed.
By the protection, you may create your account and password in the most secure online environment. Your credit card number, personal information, and bank details will also be saved privately by us. With AES encryption, no hacker will even bother to hack your detailed information.
Our customer service team has not received any reports of data violations so far, and we believe there will be also none in the future. In addition to the technology, LODIBET Casino is also authorized by PAGCOR to work with the government to enhance our security measures.
Legal, convenient, simple, fast, and safe is what our mobile app is designed to bring to Filipino players. Why are you still hesitating? Join us now!