Sign up and Login Lodibet Online Casino
Signing up at Lodibet makes more sense than doing registrations on other online casinos. The fact that Lodibet rewards new comers with launching prizes, belong to the family of big win casino and fast cashout all count into the factor upon how a top Philippine online casino should've performed.
It takes less than 5 minutes to complete the sign-up procedure, thanks to the simplified process Lodibet Casino customizes for Filipinos. Thus far, there's still a big challenge players might have to deal with: the inauthentic site, aka fake online betting website. Our brand resounds all over the world, causing an inevitable incident that well-known trademarks will most likely encounter, the identity theft.
We put counterfeit relating topics under registration guide, hopefully they ring a bell and keep you warned that you could get put into a fake-site trap. Sign up in Lodibet Gaming is easy as pie; avoid scammers from stealing your properties, not so much. Follow our full instruction to register and see why restrain logging into counterfeit site is a thing nowadays. Safety first, convenience comes afterwards.
How to Sign up and Login on Lodibet Casino?
The long-awaited Lodibet Casino in the Philippines is finally open for sign-up! If you want to play the best baccarat, blackjack, slots, Sabong or any real money game available, it's necessary to create an account at Lodibet. It takes only a few minutes to complete the entire sign-up and login process.
Given the rapid rise of Lodibet casino and the influx of players to claim for launching prizes, we suggest you to sign up between 1 and 5 p.m. before the limited rewards are out. Join us ASAP, it's free!
Sign-up Steps
1. Go to home page and click [Sign up].
2. Key in your basic information.
Player ID: 2~15 characters, starting with a letter, may contain a combination of letters and numbers
Password: Must contain letters and numbers, at least 6 characters
Confirm Password: Enter your password again
Real Name: Enter your full legal name the same as your bank account, or your withdrawal will be rejected
Contact Number: Enter your phone number for verification
Verification Code: Enter the numeric verification code shows on the right
3. Confirm "I am 21 years old and agree the terms of use".
4. Click "Log in" after successfully verifying your account.
Sign-up steps
1. Go to [Lodibet.com] and click [Log in]
2. Input basic information then submit
3. Log in
Sign up & experience quality game in Lodibet now!
Lodibet - No.1 Big Win Casino to Sign up
Mention about the big win casinos in the Philippines, Lodibet is undoubtfully one of them. Ever since its opening, the big win prizes were constantly won, with the slot machine Jackpot being the most awarded, followed by Evolution Live Roulette, Evolution Crazy Time and Sexy Gaming Baccarat. These games amazed players for its stunning reputation, and has become the most popular casino games from the outset of its registration.
Prizes players can receive are roughly between PHP20,000~PHP50,000. JILI Games slots had 416 players get more than PHP10,000 in June 2022 alone, this unimaginable number is beyond the reach of other online casinos. We have compiled statistics on three JILI slots with the highest jackpots as follows:
Super Ace, Golden Empire and Magic Lamp being the last.
One of the best things about Lodibet is that it pays out on time. We believe" honest" is the best formula for long-lasting business, and Filipinos expect to get their winnings as soon as possible. We do our best to provide fast payout service, make sure every single player is fully involved and entertained. Lodibet is unquestionably the finest casino to sign up for Filipinos.
Lodibet Personal Center Review and Guide
Lodibet boasts the most powerful membership system, which includes five exclusive member functions: Beginner's Task Rewards, Membership Level System, Diverse Withdrawal/Deposit Payments, Real-time Betting/Winning Reports, and Friend Referral Bonuses. These features have received unanimous praise from Filipino players, and the prestigious membership experience provided by Lodibet is unparalleled by other casinos. Therefore, Lodibet has millions of registered players each year. We truly make it easier for players to win and have more fun!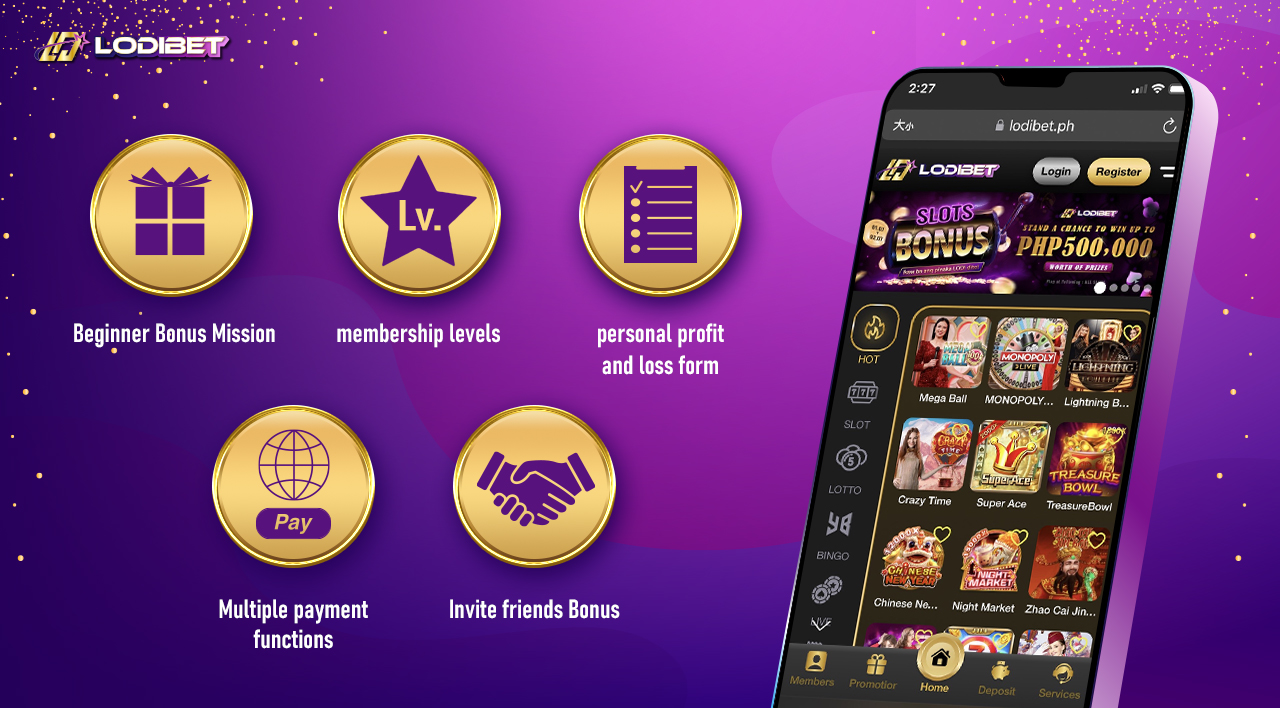 If you have successfully registered with Lodibet and want to quickly understand the membership system, please read the following explanation of the five major membership features to ensure that you can receive these rewards after joining Lodibet.
Lodibet Beginner Tasks/Rewards Center Function
Lodibet is very happy to provide players with more bonuses. As long as you become a Lodibet member, you can receive daily bonuses: by completing your profile, you can receive a Golden Egg; by logging in continuously for 30 days, you can receive up to ₱10,000; and by participating in activities and exchanging mall points for Rolex watches, phones, home appliances, and more. These are exclusive reward activities provided only to Lodibet members.
1.Free Golden Egg: Beginner Task
Steps: Members >> Reward Center >> Beginner Task
Lodibet encourages players to fill out their profile completely, as it helps to enhance the security of their account, including setting transaction passwords, phone verification, and more. As long as the profile is completed in full, players can receive a Golden Egg, and cracking open the egg can reveal a bonus ranging from ₱8 to ₱8,888.
2.Daily Login Reward: Sign-in Task
Steps: Members >> Reward Center >> Sign-in Task
By logging into Lodibet every day for just 1 minute, players can receive a reward of up to ₱10,000 for continuous login for 30 days, as well as daily bonuses and points. You can check your sign-in progress in the Sign-in Task.
3.Points Redemption: Points Mall
Steps: Members >> Reward Center >> Points Mall
You can get a Rolex just by playing games? Yes, you can accumulate 100 to 10,000 mall points by playing games and regularly participating in activities. These points can be redeemed for valuable prizes, including Rolex watches worth millions, Galaxy Z phones, HONDA motorcycles, game credits, phone credits, Dyson household appliances, and other high-end prizes.
Lodibet Membership Level System Feature
In the Lodibet membership system, as a player successfully registers, they become our VIP member. New members start at Level 1, and there are a total of 15 membership levels. You can find your current membership level on the "My Account" page. Each level has different member benefits and rules, as follows: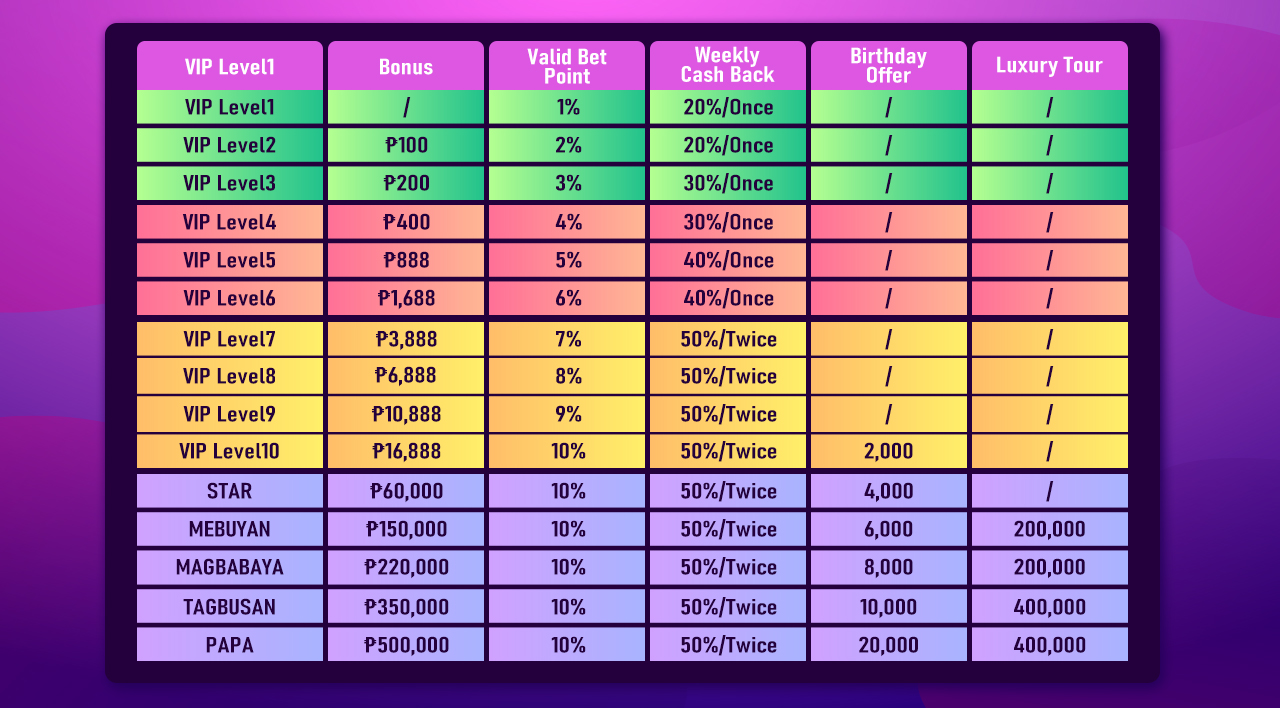 Bonus:
Starting from Level 2, players can receive bonuses for each level-up, and these bonuses will be directly credited to your Game Credit. The maximum bonus is up to ₱500,000 for Level 15.
Valid Bet Point:
The system converts valid bet points to micro-points at a certain rate, which can be used in the Point Mall. The percentage of conversion rate will increase according to the VIP level, accumulating more points to redeem for more prizes.
Weekly Cash Back:
A certain percentage of the deposit will be added to your credit. Starting from Level 2, players can receive a 20% cashback once a week, while Level 6 players can receive a 40% cashback twice a week. This is a highly favorable cashback rate.
Birthday Offer:
Birthday bonus will be activated at Level 10 and will be sent every year on the birthday you set. Once the birthday is set, it cannot be modified.
Luxury Tour:
Lodibet exclusive VIP activity. Starting from Level 12 MEBUYAN level, players can receive a once-a-year travel activity, including custom transportation, five-star hotel accommodation, and playing at physical casinos, allowing you to enjoy high-end and distinguished services.
Lodibet Deposit/Withdrawal Feature
Lodibet adopts a series of popular payment methods in the Philippines that are widely used locally. We hope that players can quickly and conveniently deposit and withdraw funds. Currently, the minimum deposit amount for Lodibet is ₱200, and the maximum withdrawal amount is ₱250,000. You can use a variety of methods for deposits and withdrawals, as follows:
Deposit Payment Methods: GCash, GrabPay, PayMaya, Bank
Withdrawal Payment Methods: GCash, GrabPay, InstaPay, Paymaya, Bank
If you choose to withdraw via bank, you can enjoy a maximum withdrawal limit of ₱250,000. We collaborate with Union Bank of the Philippines, Rizal Commercial Banking Corporation, Banco de Oro, Bank of the Philippine Islands and Philippine National Bank. These banks provide the most convenient payment systems for players, allowing you to deposit and withdraw funds in real-time.
Lodibet not only attaches great importance to the method and speed of fulfilling payments but also places great importance on the payment privacy of players. For the security of your account, we have set up a transaction password and daily withdrawal limit (10 times), which can protect the payment account of players from being disturbed, ensuring that every expenditure and income is safe and secure.
Lodibet Betting/Winning Record Feature
Our real-time betting/winning record system records players' betting records in various games in detail. You can search for records from today, yesterday, or any other period, and see all the data clearly. The recorded categories include Slot, Lotto, Live, Fishing, Sport and PVP. Players can check their records based on various games. Advanced players can use this data to study the best gaming time, betting amount, and analyze the winning rate of various games. These records are very valuable to players, making Lodibet an ideal platform for professional gamblers.
Lodibet Friend Referral Link Feature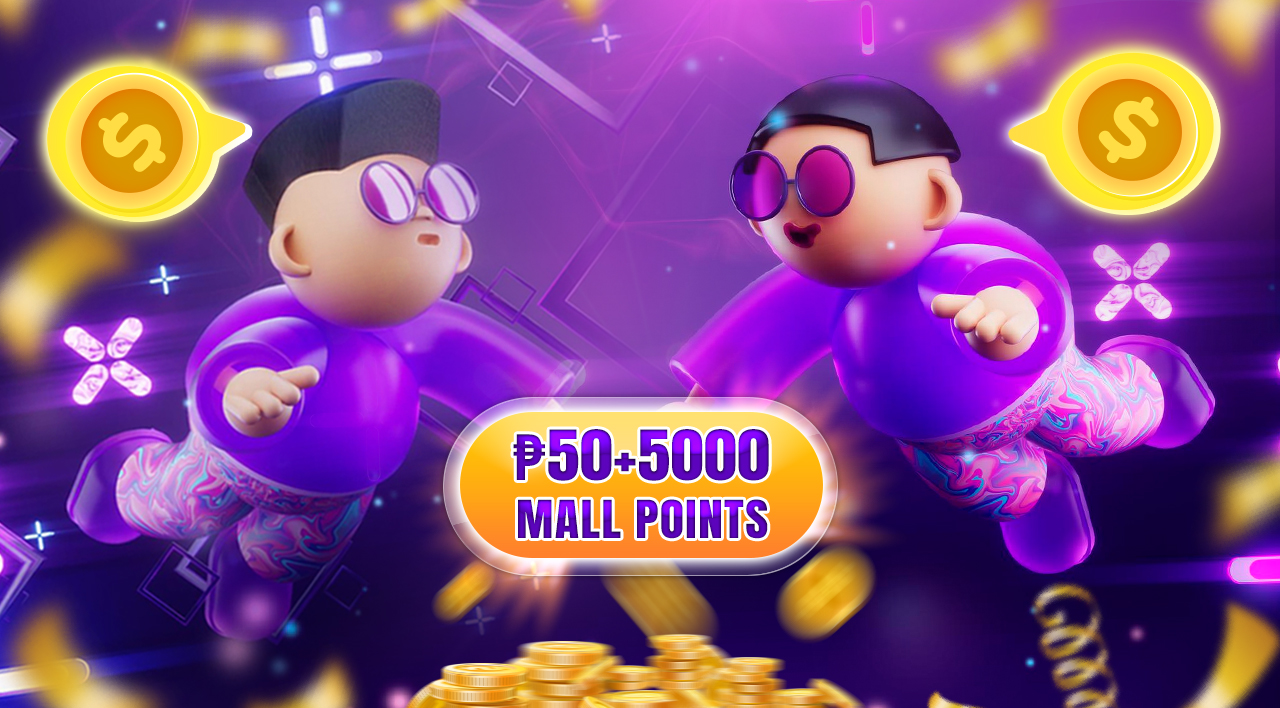 Are you interested in becoming a casino agent, but want to test the waters and your skills first? Lodibet provides a very simple referral mechanism: just let your friends register successfully through your exclusive link. Both you and your friends can receive a reward of ₱50 + 5000 mall points. Moreover, every time your friends make a deposit, you can receive an additional 50% mall points as a reward, with no limit on the number of times! (For example, if your friend deposits ₱300, you can receive 150 mall points as a reward, with no limit on the number of times!)
Location to view the friend referral link: Members >> Invite friends
How to Make a Sign-up at Real Site?
If you Google Lodibet, you may see a URL like this: Lodigame.com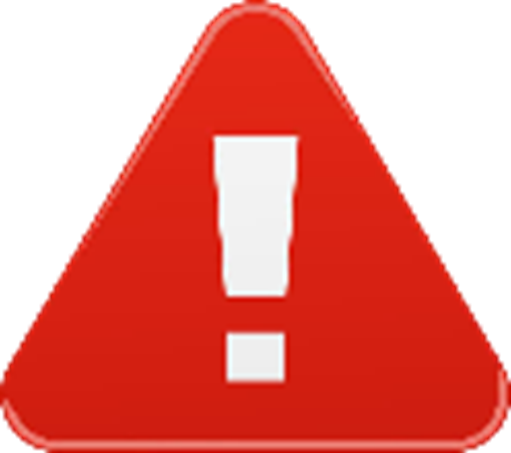 FAKE Lodibet SITE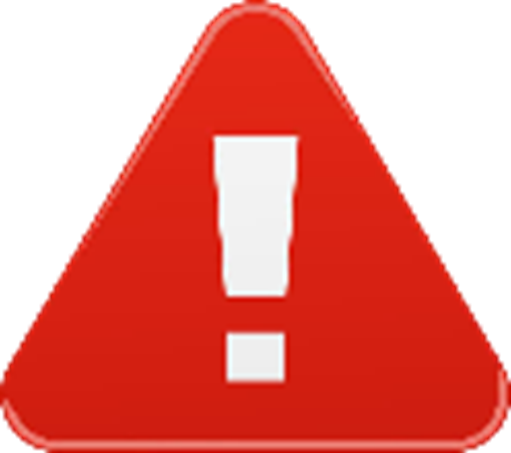 Be aware of this peculiar Lodibet-counterfeit website. Any registration, login or interaction on this site may cause personal information leakage, credit card theft and virus intrusion.
Still, the question remains: How could I tell if I sign up at a real Lodibet site?
1. Dual version supported:
Real site supports desktop and mobile version as this fake site supports mobile only, which you can tell by its cramped layout. Unscrupulous vendors are trying to mass-produce multiple sites in a quick manner, resulting in incomplete functions and a rudimentary structure. Registering and depositing on such sites is extremely dangerous and should be treated with caution.
Real Lodibet.com in the Philippines, as shown below, is available in two formats for desktop and mobile devices, and has a clear, unique casino layout instead of common templates found elsewhere in the market.
2. Unresponsive customer service
The worst thing about online casinos is not being able to find someone to solve your problem. You can test these suspicious casinos to see if anyone responds in a live chat. If it takes too long or none of them reply, then it's not a trustworthy online casino.
It will be difficult to find someone to answer your questions about deposits and transaction immediately. We recommend not to trust these counterfeit sites, or you're most certainly facing a serious risk.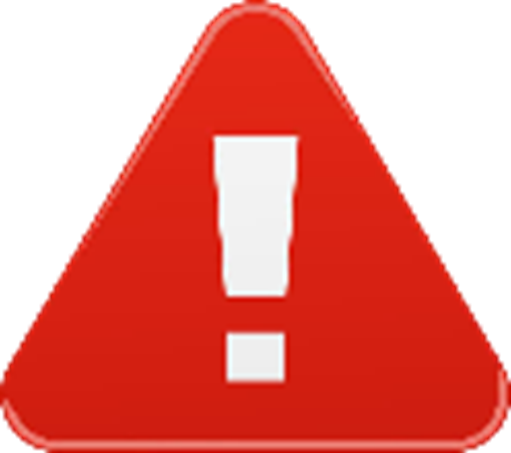 Unresponsive customer service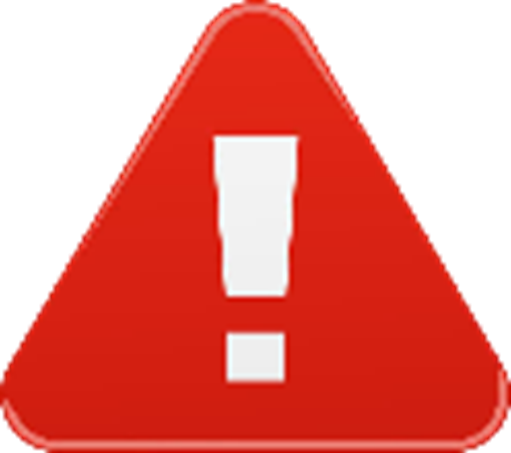 3. Poor reputation
Pay attention to these counterfeit casinos on FB, IG or other social media platforms likewise and check for any negative comments. Those commenters have been playing here for quite some time and find the casinos less than expected, making them feel the urge to voice out on social media. These complaints can be a good reference point.
Despite more and more online casinos are being launched in the Philippines, the quality varies and there's no gatekeeper or control unit in place. Players should look carefully to identify good and trustworthy casinos to claim registration rewards.
We highly suggest players to choose a casino from here: Our Guide to the Best Online Casinos in the Philippines for 2022, a site run by a group of gaming experts that provides reviews and ratings of current mainstream casinos in the Philippines, but of course, we highly recommend you to sign up at Lodibet.com.
Most Secured Online Casino in the Philippines for Sign-up
Lodibet holds a legal license in the Philippines and owns various test labs related certificates (eCOGRA, Costa Rica, iTech, GambleAware) to ensure that the casino is legal and secure. In addition, we also protect players' privacy by having security experts overseeing the security measures and setting up a padlock sign and Secure Sockets Layer (SSL) security encryption system, players are protected with encrypting data from third parties or hackers to access sensitive information.
Despite above, Lodibet dedicates in protecting your account safety, not only security authentication while logging in, we also require our player to change their password every three months. Rest assured to register at Lodibet, our privacy protection transcends ahead all other casino.
Lodibet is also fully secured for underage players: our system helps to check if a player is of age to play right before the registration process.
You're able to know if a casino is trustworthy based on the reviews of other players. Fake Lodigame.com shows very little reviews probably because: firstly, the casino is not represented and therefore not promoted; secondly, there is no player presence and therefore no reviews are found; thirdly, negative feedbacks have been removed.
Lodibet takes every player's request seriously, and we require our customer service staff to respond to questions within 10 minutes and do their best to fix everything up. Far in the Future, we wish to be the most reliable and sign-up friendly online casino in the Philippines.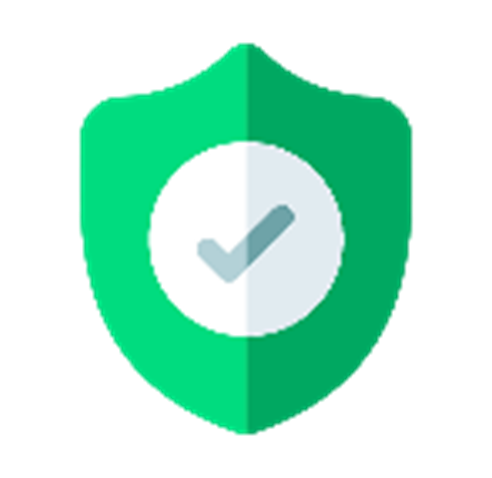 Legal & Safe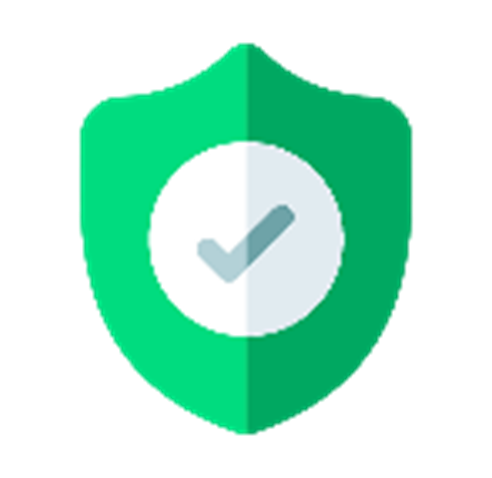 This is my favorite casino. –Jean
I joined Lodibet last month and earned 150,000 so far. –Sam Druce
Fascinating site. –Jopet Samain
Great! –Izal Akbar
Lodibet Offers the Fastest Payout & Withdrawals
We support common Philippine payment methods like Gcash, credit card and PayMaya. The minimum deposit amount is PHP200, which takes 1~30 minutes to process, free of charge. Lodibet is a top Philippine online casino for its fast & handy transactions.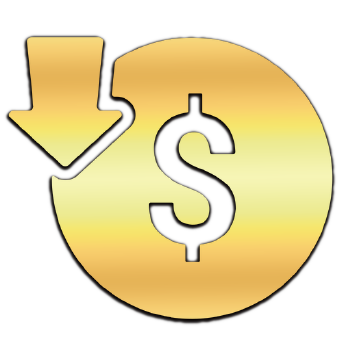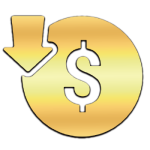 Deposit methods:
After signing up, click "Deposit" on your user page, you will see three types of transaction services available: Gcash, bank and PayMaya. Gcash is the mainstream deposit method in the Philippines. The minimum deposit amount is PHP200 with the maximum of PHP10000~50000.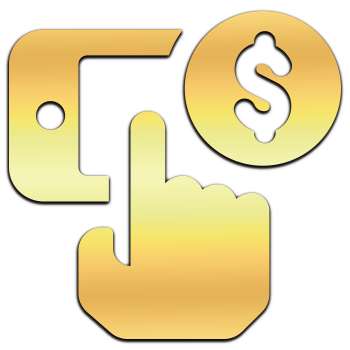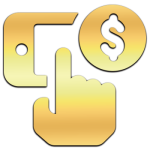 Withdrawal methods:
Click "Withdrawals" on your user page, there are three withdrawal methods: credit card, Gcash and Grabpay. We support most of the banks and sought-after Gcash, Grabpay. Get your cash prize in less than 5 minutes by filling out simple sign-up form!